Service Pickup & Delivery

Service Pickup & Delivery at Bob Moore INFINITI | Complimentary Within 30 Miles
The team at Bob Moore INFINITI is excited to announce an added convenience provided to our valued clients. We now offer INFINITI owners complimentary service pick-up and delivery within a 30-mile radius of our 13000 N Kelley Avenue in OKC. So if you live in Edmond, Midwest City, or even the heart of Norman, our professional staff will pick up your INFINITI and deliver it to our service department for any maintenance or repairs required. Then we will return your vehicle to you when the work is completed.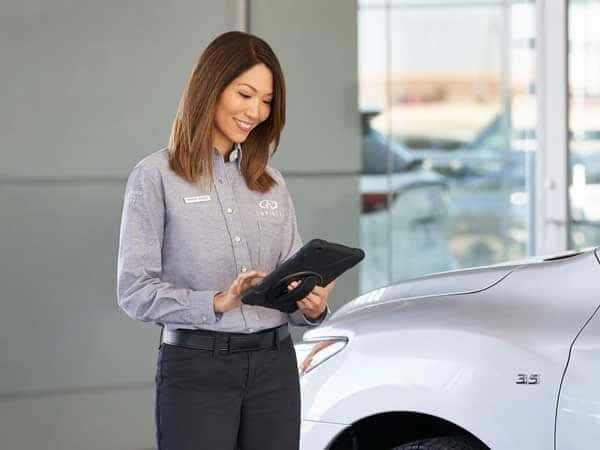 Service Valet at Bob Moore INFINITI
We know you love your INFINITI, and we know you want to take care of it and keep it running smoothly. We also know your time is precious and that sometimes it's inconvenient to have your INFINITI serviced, so we want to make things easier on you when it comes to keeping you on the road. If you live in the Oklahoma City area, the service valet at Bob Moore INFINITI provides added convenience when you need work done on your INFINITI. To help you out and support our customers, we offer Car Servicing at Home with a Complimentary Valet Service. Our service and parts department are open regular hours to serve you. Our complimentary valet service means:
Easy to schedule appointments online.
Exemplary service experiences through videos with service technicians to help you make an informed decision regarding work on your INFINITI.
Extraordinary cleanliness with a wash, vacuum, and sanitation, all complimentary.
An INFINITI loaner vehicle is provided and sanitized for you to keep you safe.
Available regardless of where you live or where you purchased the vehicle.
Anywhere near Oklahoma City, Edmond, or Norman.
Complimentary pickup and delivery.
Fast And Simple Scheduling
It can be challenging to block out time in your hectic schedule to get your INFINITI in for the recommended service or any repairs that it might require. At Bob Moore INFINITI, we understand how busy you are, but we also know that you need to protect your investment in your premium vehicle. So to eliminate the stress of getting your car the care it needs, we are making it as simple as calling our service department at 405-584-6474 or using our online scheduling tool to select the time that works for your schedule. Just let us know that you will need the valet pick-up and drop-off and the location where the car will be waiting for our driver.
More Than Simple Maintenance
Should your INFINITI require more than basic service or oil change, we understand that you will need alternate transportation. Therefore, in addition to the complimentary pick-up and delivery service, our staff can deliver a courtesy vehicle to your location when we pick up your vehicle. Please be sure to let our team know that you will need this service, and we will be happy to accommodate your request as long as we have vehicle availability.
The Pick-Up
As an added courtesy, we will provide a reminder of your scheduled vehicle pick-up 24-hours before the appointment time. This message can be delivered via a phone call, text, or email. On the day of pick up, you will receive an alert from the driver picking up your vehicle. When the driver leaves with your car, you will receive another text or email alerting you of the vehicle's departure and including a tracking link. Finally, you will be alerted when your vehicle arrives at our service department.
Service And Vehicle Return
You will continue to receive updates from your service advisor, as you typically do when dropping off your vehicle. Once the service is completed, we will send you your invoice that you can easily take care of digitally. Our delivery team will contact you when the vehicle is on the way back to you with an ETA and a departure text, including another tracking number. Finally, we will text you when we arrive at the drop-off location with your vehicle.
Home by Bob Moore INFINITI
We know how challenging it can be to schedule service for your vehicle and to get everyone where they need to go without wheels. With Servicing at Home, our team at Bob Moore INFINITI will pick up your vehicle and bring it into our service center to provide the service you need.
Whether you are at work, at home, or out and about with your family enjoying what Oklahoma has to offer, you can contact us for our Valet Service. You and your family are our top priority, and we want to offer convenient service. We use our HOME Program at Bob Moore INFINITI to provide premier service for you. We will come and get your vehicle with our Valet Service, and you choose the way you want to interact with us. You can tailor your automotive solution according to your service needs.
You can count on the service team to take care of routine maintenance issues and make repairs when needed. We use genuine OEM parts and will provide a full estimate for the cost of repairs for your INFINITI. Our technicians are trained on INFINITI technology to ensure they provide fast, accurate repairs. You can rely on the experience and knowledge of our service team to get the job done right. We'll keep you updated on the work and let you know when your vehicle is ready to come back home to you.
We offer our valet service for your convenience, or if you would rather, you can bring it to our service center yourself. You can expect quality customer service from the premier service department at Bob Moore INFINITI. We care about our customers, and we want to take care of your INFINITI and get you back on the road. Contact us to schedule service today.
At Bob Moore INFINITI, we believe that our job is to provide more than great automotive service. Our job is to eliminate any challenges involved in getting your INFINITI in for service.